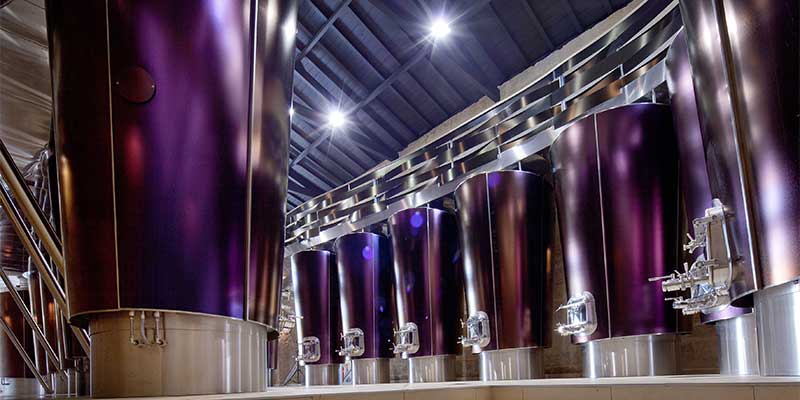 Defranceschi-Sacmi, when the winery becomes art
At the international fair SIMEI 2019 (Milan, 19-22 November – Hall 11, Stand n.12) the opportunity to get to know a company that is revolutionizing the world of enology.
Wineries have always been a privileged place for the expression of the world of architecture: the space where tradition, work, culture and aesthetic meet together, the sublimation of a territory that bears its burning mark of the world.
For this reason, it is essential that the architectural message matches with the DNA and the history of the place.
The mission of Defranceschi-SACMI is to bring the technical heart that beats within the winery to the emotional height of the global project, taking care of the oenological spaces and giving them importance in the architectural, communicative and identity project in each winery.
Technology, taken to the highest levels of efficiency and expression is necessary to shape technical elements with a sophisticated design.
Defranceschi-SACMI, in collaboration with professionals and architects of international reputation specialized in winery design, offer complete and prestigious solutions, achieving recognition and success in the world of wine.
In addition to the Design division, Defranceschi-SACMI also offers a wide range of machines for receiving grapes and optical sorting, membrane presses (open and closed version), tanks and complete bottling (bib) and labelling (KUBE) lines.
In this way, customers have the advantage of relying on a single interlocutor who, thanks to his consolidated experience and his distribution network, can support them and better meet every request.
Among the new products proposed at SIMEI 2019, the company presents the ceramic tank, a project developed in collaboration with the parent company SACMI Imola, a world leader in the production of plants for the ceramic industry for 100 years.
Thanks to the experience in the sector and through the research laboratories of the latter, Defranceschi-SACMI has designed a ceramic plate with controlled porosity totally food that, installed inside the tank, allows to optimize the gas exchange (micro-oxygenation) on large volumes of product, from fermentation to aging, obtaining physically more stable wines and taste more fruity and elegant.
We look forward to seeing you at SIMEI (19-22 November 2019) – Fiera Milano, Hall 11, Stand n. 12 11, Stand N12