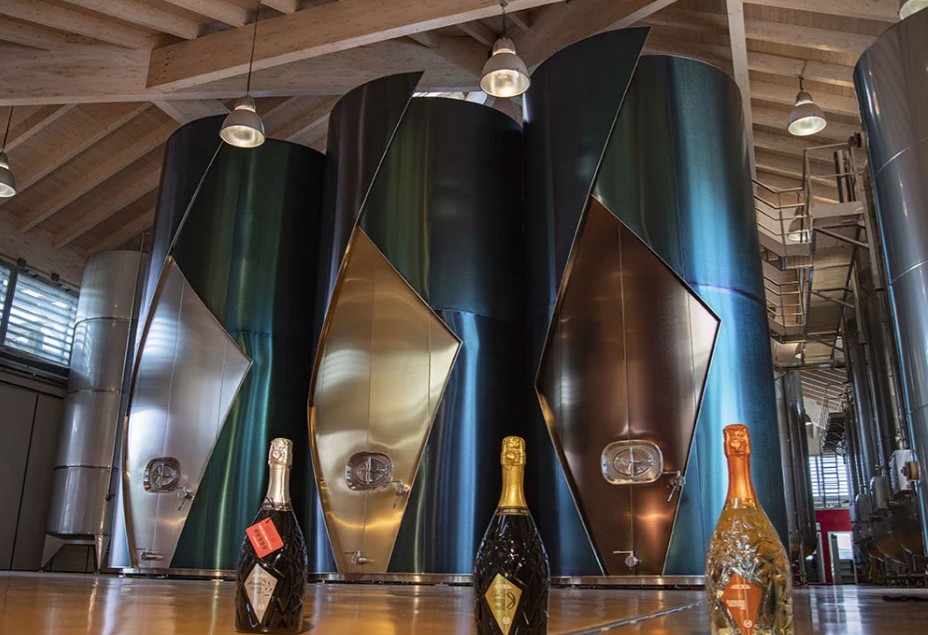 DEFRANCESCHI-SACMI IN COLLABORATION WITH MATTEO SELLERI, ARCHITECT, FOR ASTORIA WINES.
Technology and design made in Italy at the service of the historic wine house of Treviso
Defranceschi, for over 50 years, has innovated in the field of oenology, combining technique and rigour, knowledge and passion, with a single noble objective: integrating the winery in the world of lifestyle, transforming the technological object into an element of communication.
In the last 10 years Defranceschi has established itself in the luxury and communication market of the wine world and, thanks to the acquisition by SACMI Imola, this path has been further consolidated and has allowed the wineries to rely on the support of professionals able to develop their cutting-edge projects.
The Architecture Division, the flagship of Defranceschi-SACMI, in collaboration with internationally renowned professionals and architects specialized in the design of wineries, offers its customers complete and prestigious solutions: from layout to furniture, from the reception of the grapes to the precious "Design Line" wine tanks.
Defranceschi-SACMIworks in order to strengthen the identity of each winery in tune with today's cultural movement.
Astoria is an exemplary case, because Paolo and Giorgio Polegato combine the attention to quality with the awareness that wine is also image and lifestyle. For Astoria, Defranceschi-SACMI, in collaboration with architect Matteo Selleri, has built three 450 hl tanks, completely insulated, so that the temperature is adjustable and perfectly homogeneous. They are located in the company's winery, a technological joy of 10 million euros capable of winemaking more than 70,000 quintals of grapes a year.
The impact is of great scenographic effect, thanks to the shapes and colors that recall the characteristic shape of the iconic bottles of the brand "Astor".
The winery thus becomes a fascinating and distinctive space, completing the path dedicated to wine tourists: an important project that represents for Defranceschi-SACMI a showcase of absolute prestige in the Italian wine scene.