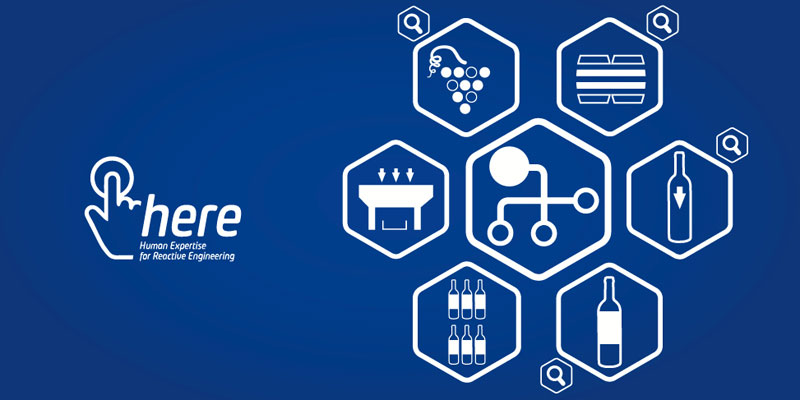 SMART SOLUTIONS FOR THE WORLD OF WINE: DEFRANCESCHI-SACMI LAUNCHES ENOLOGY 4.0
WITH SACMI, H.E.R.E. (HUMAN EXPERTISE FOR REACTIVE ENGINEERING) MAKES HIS ENTRANCE IN THE CELLARS. A NEW APPROACH TO THE MANUFACTURING AND BOTTLING PROCESS WHICH TAKES ADVANTAGE OF AND IMPLEMENTS, ALSO IN THIS SECTOR, THE OPPORTUNITIES AND PRINCIPLES OF INDUSTRY 4.0.
Defranceschi-Sacmi revolutionizes the winemaking process with an innovative set of digital solutions for wineries. Enology 4.0 is born, the new production approach that refers to the Sacmi H.E.R.E. (Human Expertise for Reactive Engineering) platform.
Thanks to advanced sensorsand the interconnection between machines and departments, H.E.R.E. allows to take advantage of all the opportunities of Industry 4.0 applied to the enological sector from thepredictive diagnostics in machines and installations to different and more efficient warehouse management, thanks to the system's ability tointeract directly with the customer's ERP.
A true installation controller that goes beyond the traditional line supervisor concept, Sacmi H.E.R.E was developed in 2015 as a common platform for all sectors and businesses of Sacmi's activities. In the wine sector, in particular, this system allows theconstant monitoring of each crucial step, from the quality control in the field to the elaboration of wine, from bottling to labelling.
All the machines Defranceschi-Sacmi – from innovative membrane presses to automations for product handling, from filling machines to storage and storage autoclaves – can thanks to H.E.R.E. communicate with each other, offering the operator valuable information on the plant efficiency index and the possibility to set up automatic feedback on production to maximize performance and/ or identify and solve potential problems in advance.
Thus the Group launches the challenge to a sector in which the application of the principles of smart manufacturing allows to increase competitiveness and efficiency with a view to customer satisfaction and an ever better enhancement of the wine product as an expression of a story, of an identity, of a centuries-old wine making culture that, thanks to new technologies, Sacmi renews and projects towards the future.